Recipes from the Restaurants of Mischief Bay
TABLE OF CONTENTS
Mischief Bay has an eclectic mix of restaurants, from the ultra-upscale to food shacks along the beach. Whatever you're hungry for, you'll find it in Mischief Bay! Here are a few recipes from some of the town's favorite restaurants.
---
Miguel's Steak Fajita Quesadillas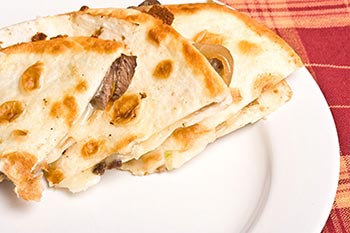 INGREDIENTS:
2 ribeye steaks, sliced ¼-inch thick, then cut into 1-inch pieces

Marinade:

Juice of three limes
½ C tequila (too bad you can't use Saldivar tequila!)
2 T triple sec or other orange-flavored liqueur
1 jalapeno, seeded and diced
3 cloves garlic, minced
2 t salt
2 t cumin

8 oz Monterrey jack cheese, shredded
8 flour tortillas
Mix together the marinade ingredients, then pour over the steak. Marinate for 2-3 hours, stirring occasionally. Drain and discard marinade. Cook beef pieces on the stove in a heavy-bottomed pan over medium-high heat for 2-3 minutes per side. Set aside and wipe out the pan with a paper towel. Lower heat to medium-low. Place a flour tortilla in the pan, sprinkle with cheese. Place one-quarter of the steak pieces on it, then top with more cheese and another tortilla.
When the cheese on the bottom has melted, carefully flip over and cook another minute or so. Cut the quesadillas into wedges and serve warm.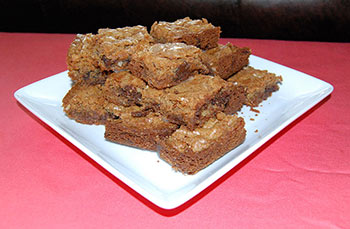 INGREDIENTS:
1-1/2 C brown sugar, packed
1 C butter, softened and divided
2 eggs, plus one yolk
2 C flour
1 teaspoon baking powder
1/2 teaspoon salt
1 teaspoon vanilla
4 oz dark chocolate candy bar broken into pieces because life in Mischief Bay can be bittersweet.
1/2 C chopped nuts because Mischief Bay is full of nuts.
Preheat oven to 350°F. Use 1 tablespoon of softened butter to grease a 13x9-inch pan. Set aside.
Cream the rest of the butter with the sugar on medium-high speed, scraping sides of the bowl several times. Add eggs and extra yolk, one at a time, mixing well. Add vanilla with the yolk.
In a separate bowl, sift together the flour, baking powder and salt. Add to the butter mixture and stir on low speed just until moistened. By hand, fold in the candy and the nuts. Bake at 350°F until a toothpick inserted in the center comes out clean, about 20 minutes.
FROM GARY'S CAFÉ
Oatmeal Cranberry Pancakes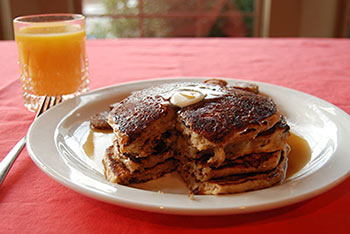 INGREDIENTS:
1 C + ¼ C old-fashioned oats, divided
2 C buttermilk
1 C flour
2 T brown sugar
2 t baking powder
1 t baking soda
½ t salt
2 eggs
½ C dried cranberries, roughly chopped
½ C chopped nuts (optional)
Put 1 C of oats in a food processor and pulse until fine. Mix with buttermilk in a glass bowl. Refrigerate for at least one hour, up to overnight.
Preheat pancake pan over medium heat. In a separate bowl, mix together the flour through the salt, along with the ¼ C of oats. Add the eggs to the buttermilk mixture and whisk together with a fork. Add wet ingredients to dry, stirring just until moist. Add cranberries and nuts, if desired.
Lightly grease the pan with a pat of butter and pour about 2/3 C at a time to make six-inch pancakes. Cook until brown on each side. Keep warm in oven until serving. Makes 9-10 pancakes.
FROM THE FARM TABLE
Chicken-Spinach Salad with Strawberries
and Maple Vinaigrette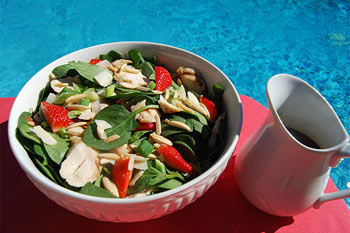 INGREDIENTS:
Vinaigrette:
1/3 C vegetable oil
1/3 C maple syrup
3 T balsamic vinegar
1 T Dijon mustard
1 T lemon juice
½ t salt
¼ t pepper
Salad:
1 lb boneless, skinless chicken breasts
5 oz baby spinach
8 oz strawberries, quartered
4 green onions, sliced
½ C slivered almonds, roasted 30 seconds in a dry pan
Whisk together the vinaigrette ingredients and refrigerate.
Grill the chicken breasts until thoroughly cooked. Slice on the diagonal. Mix all salad ingredients in a bowl. Serve with maple vinaigrette. Makes 4-6 main dish salads.
FROM WOK'S UP
Shrimp Fried Rice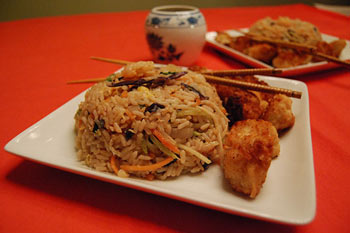 INGREDIENTS:
4 C cooked rice
1 lb peeled shrimp, tails removed
½ C white wine
1 T corn starch
1 T soy sauce
½ t red pepper flakes
Vegetable oil
1 small onion, sliced
12 oz bag of chopped veggies (carrots, cabbage, broccoli, cauliflower… whatever mix you like)
8 oz can of sliced water chestnuts
3 eggs
Additional soy sauce to taste
Mix together the wine, corn starch, soy sauce, and red pepper flakes. Marinate the shrimp in this mixture for 30 minutes to 2 hours.
Preheat wok or deep pan over medium-high heat. Take the shrimp out of the marinade but reserve the marinade. Add 2 T of oil to the pan. Stir fry the shrimp until opaque, about 2 minutes, depending on size. Remove from pan. Add another T of oil. Stir fry the onions for 30 seconds, then add the rest of the veggies and stir fry for two minutes longer. Set the veggies aside with the shrimp. Add another 1 T of oil to the pan, then put the rice in there with the reserved marinade. Cook until hot. Push the rice to the sides, leaving a big hole exposed in the middle. Whisk the eggs with a fork, then pour into the hold in the rice, stirring while it cooks. When the egg is cooked through, mix it throughout the rice and return the shrimp and the veggies to the pan to heat up.
Note: The shrimp fried rice is pictured with Coconut Popcorn Cauliflower and Asian dipping sauce. To make the cauliflower, make the recipe for Coconut Popcorn Shrimp from Susan Mallery's Fool's Gold Cookbook, using one-inch cauliflower chunks in place of the shrimp.
FROM WOK'S UP
Asian Dipping Sauce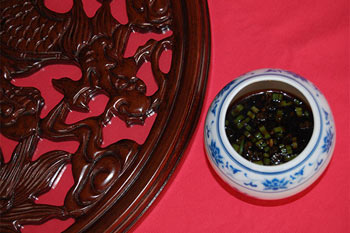 INGREDIENTS:
¼ C soy sauce
1 T oyster sauce
2 T water
½ t sesame oil
1 t sugar
1 clove garlic, minced
1 green onion, sliced very thin
Mix all ingredients. Refrigerate for at least an hour to blend the flavors. If it's too strong for you, add another tablespoon of water.
FROM INN ON THE PIER
Salted Caramel Swirl Cheesecake with
Praline Topping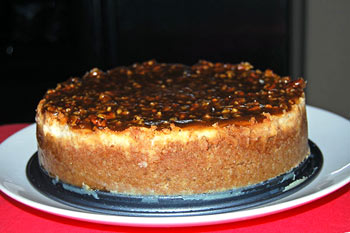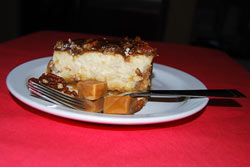 INGREDIENTS:
Crust:
9 graham crackers
18 saltine crackers
¼ C sugar
1 ½ sticks butter, melted
Process dry ingredients in a food processor, then add butter and pulse until moistened. Pat on bottom and up sides of a springform pan. Sprinkle with sea salt.
Filling:
3 8-oz packages of cream cheese, room temperature
1 C sugar
1 T vanilla
4 eggs, room temperature
1 C jarred caramel sauce, divided
Preheat the oven to 400 degrees. Mix together cream cheese, sugar, and vanilla. Add eggs one at a time and continue mixing after each addition. Pour into prepared shell. Drop the caramel 1T at a time in separate places on the top of the batter. Swirl a butter knife around. Bake for 50 minutes to 1 hour, until the center of the cake is just slightly jiggly. A hot water bath is recommended. Cool on a wire rack at room temperature for 1 hour.
Topping:
½ C cream
½ C brown sugar
½ C pecans, chopped
1 t vanilla
Put cream and sugar in a pan over medium heat. Stir constantly until it starts to bubble. Lower heat and continue to simmer for 10 minutes, stirring constantly. Remove from heat. Stir in vanilla, then pecans. Leave off the heat for 1 minute, then pour over cake. Refrigerate overnight.
FROM THE SLICE IS RIGHT
Chicken-Bacon Pesto Pizza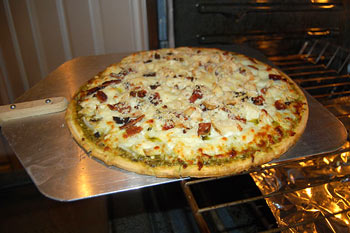 INGREDIENTS:
1 store bought pizza crust
1 jar pesto, 6 oz
1 boneless, skinless chicken breast
2 strips of bacon, cooked and crumbled
½ small onion, sliced
¼ C pine nuts
1 C shredded mozzarella
¼ C shredded parmesan
3 mushrooms, sliced
Preheat the oven to 425. Spread the crust with pesto. Add remaining ingredients. Bake directly on center shelf of oven until cheese is bubbly and starts to turn brown at the edges, 12-15 minutes.
FROM LET'S DO TEA
Lemon-Blueberry Sour Cream Muffins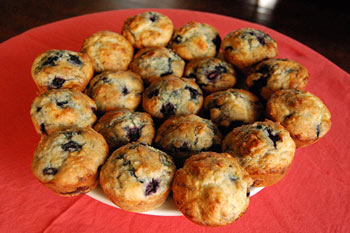 INGREDIENTS:
4 C flour
1 ¾ C sugar
1 T baking powder
1 ½ t baking soda
½ t salt
16 oz sour cream
2 eggs
2/3 C butter, softened
3 T lemon zest
¼ C lemon juice
1 C blueberries, fresh or frozen
1 t vanilla
Preheat the oven to 400 degrees and grease 24 muffin cups.
Cream together butter and sugar. Add sour cream, lemon zest and lemon juice, and vanilla. Mix well. Add eggs one at a time.
In a separate bowl, sift together flour, baking powder, soda, and salt. Stir in wet ingredients just until moistened. Gently fold in blueberries. Fill each muffin tin ¾ full. Bake for 18-22 minutes.
FROM PESCADORES
Crab-stuffed Mushrooms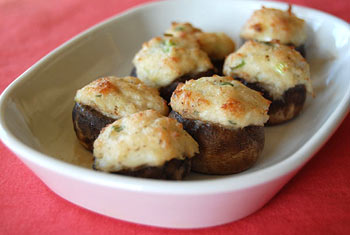 INGREDIENTS:
8 oz lump crab meat, drained and picked clean
5 oz cream cheese (onion or chive flavored)
2 T mayonnaise
1 green onion, finely minced
8 oz mushrooms, stems removed
Pre-heat the oven to 350 degrees. Mix together the crab, cream cheese, mayonnaise, and green onion. Carefully fill each mushroom with as much crab mixture as will fit. Place on rimmed baking sheet and bake for about 20 minutes.
FROM THE ORIGINAL SEAFOOD RESTAURANT
Crab Puffs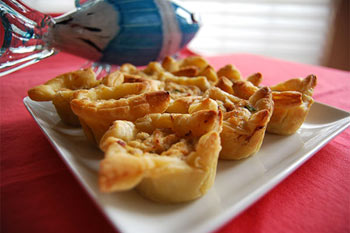 INGREDIENTS:
1 puff pastry sheet
8 oz crab meat, drained and picked clean
5 oz cream cheese (onion or chive flavored)
2 T mayonnaise
1 green onion, finely minced
Pre-heat the oven to 350 degrees. Roll out puff pastry and cut into 12 squares. Press each square into muffin cup sprayed with nonstick spray. Mix together the crab, cream cheese, mayonnaise and green onion. Bake until golden, about 20 minutes.
FROM BURRITO BOB'S
Mashed Potato Burrito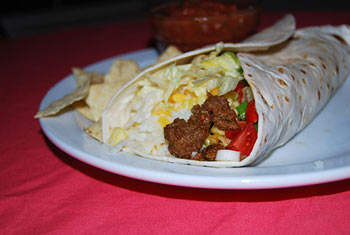 INGREDIENTS:
2 large baking potatoes
1 ear corn
1 lb hamburger
1 package taco seasoning
½ C sour cream
Lettuce, tomatoes, onions, cheese
Flour tortillas
Peel the potatoes and cut into chunks. Boil in the same pot with the ear of corn for 15 minutes. Meanwhile, brown the hamburger and add taco seasoning according to package directions.
Mash the potatoes with the sour cream. Cut the corn off the ear. Warm tortillas, then add mashed potatoes, taco meat, corn, lettuce, tomatoes, onions, and cheese.
FROM FARM TO TABLE
Homestyle Vegetable Soup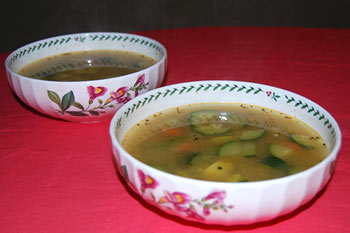 INGREDIENTS:
12 C vegetable or chicken broth
4 red potatoes
2 carrots, sliced ¼-inch thick
½ lb fresh green beans, cut into 1-inch chunks
1 15-oz can of white beans, drained
1 can corn, undrained
2 zucchini, quartered lengthwise and then sliced ½-inch thick
1 yellow squash, quartered lengthwise and then sliced ½-inch thick
2 T fresh basil, minced (or 2 t dried basil)
1 T fresh oregano, minced (or 1 t dried oregano)
1 T fresh thyme, minced (or 1 t dried thyme)
½ t ground pepper
Heat the broth to boiling. Add potatoes through green beans and simmer for 15 minutes. Add the remaining ingredients and simmer for 10 minutes more.
FROM SUPPER'S IN THE BAG
Chicken Enchilada Casserole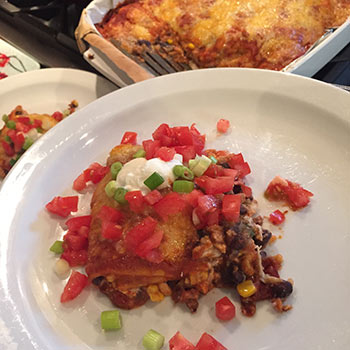 INGREDIENTS:
15-oz can of tomato sauce
10.5-oz can of cream of chicken soup
2 T chili powder
1 t garlic salt
15-oz can of black beans, partially mashed
6 C cooked chicken, shredded (1 rotisserie chicken works nicely)
½ C sour cream
½ C frozen corn
2 C shredded cheddar-jack cheese, divided
12 corn tortillas, cut into 1-inch slices, divided
2 C baby spinach leaves
Sour cream, green onions, and tomatoes for garnish (optional)
Mix tomato sauce through garlic salt. Set sauce aside.
Mix beans, chicken, sour cream, corn, and 1 C cheese. Set filling aside.
Preheat the oven to 400 degrees. Line a 13x9-inch pan with foil and spray with nonstick spray. Spread about ¾ C of sauce into the prepared pan. Layer half of the corn tortilla strips on top of the sauce, partially overlapping. Put the filling on top of the tortillas, and the baby spinach on top of that. Spread another ¾ C of sauce over the spinach leaves. Cover with the rest of the tortilla strips. Top with all of the remaining sauce.
Cover with foil and bake for half an hour. Top with remaining cheese and bake for another 5-10 minutes, until cheese has melted and started to brown, and mixture is bubbly. Let sit for 10 minutes before serving. If desired, garnish with a dollop of sour cream, green onions and tomatoes.